November 7, 2019
'Tis the season for giving! It's that time of year again at The Studio Cafe!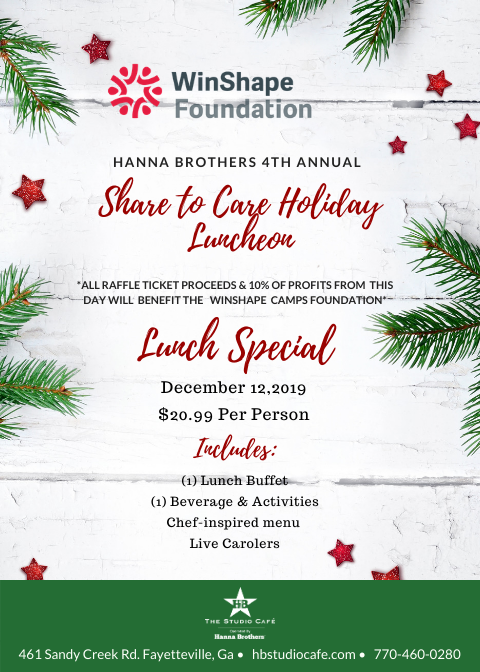 At Hanna Brothers, we strive to be a part of the community that we live in. For the last 3 years, we have hosted the Annual Share To Care Luncheon at The Studio Cafe Operated by Hanna Brothers. For this luncheon, we partner with Winshape Camps to assist with raising money during the holiday season to help with camp expenses throughout the year.
WinShape Camps' mission is to glorify God by creating experiences that transform campers and families with the message of Jesus Christ. Over 30 years ago, they launched their first overnight camp for boys on the campus of Berry College in Rome, GA. A few years later, they launched WinShape Camps for Girls on that same campus. Fast forward a few years after that, and WinShape Camps launched a next-level day camp program alongside their overnight camps in several different locations that has over 40,000+ campers engaged each summer.  (source:https://camps.winshape.org/)
We are so thankful for those who join us every year and donate wreaths for this very special event! Hanna Brothers strives to get the community involved by asking for themed wreaths to be donated and raffled off to our guests. We have been able to raise over $4,000.00 for this cause within the last 3 years.  This year, the 4th Annual Share To Care Luncheon will be held on Thursday, December 12, 2019. We will have 2 seatings this year, the first one will be from 11:00 am-12:30 pm and 1:00 pm-2:30 pm. We will have a very special performance by local carolers to get everyone in the holiday spirit. We decided to not only donate ALL of the raffle tickets sales to Winshape Camps, but we will also be donating 10% of The Studio Cafe profits from this day to Winshape Camps as well.
If you would like to donate a wreath, please contact the Cafe Manager, Don Helton at 678-695-6278 or by email at donh@hannabrothers.com.
Reservations are filling up quickly for this special event, so RESERVE your seats today at hbstudiocafe.com/reservations/