March 22, 2018
Did someone say Easter Brunch?
Easter might fall on April Fools Day this year but we are not joking about Easter Brunch!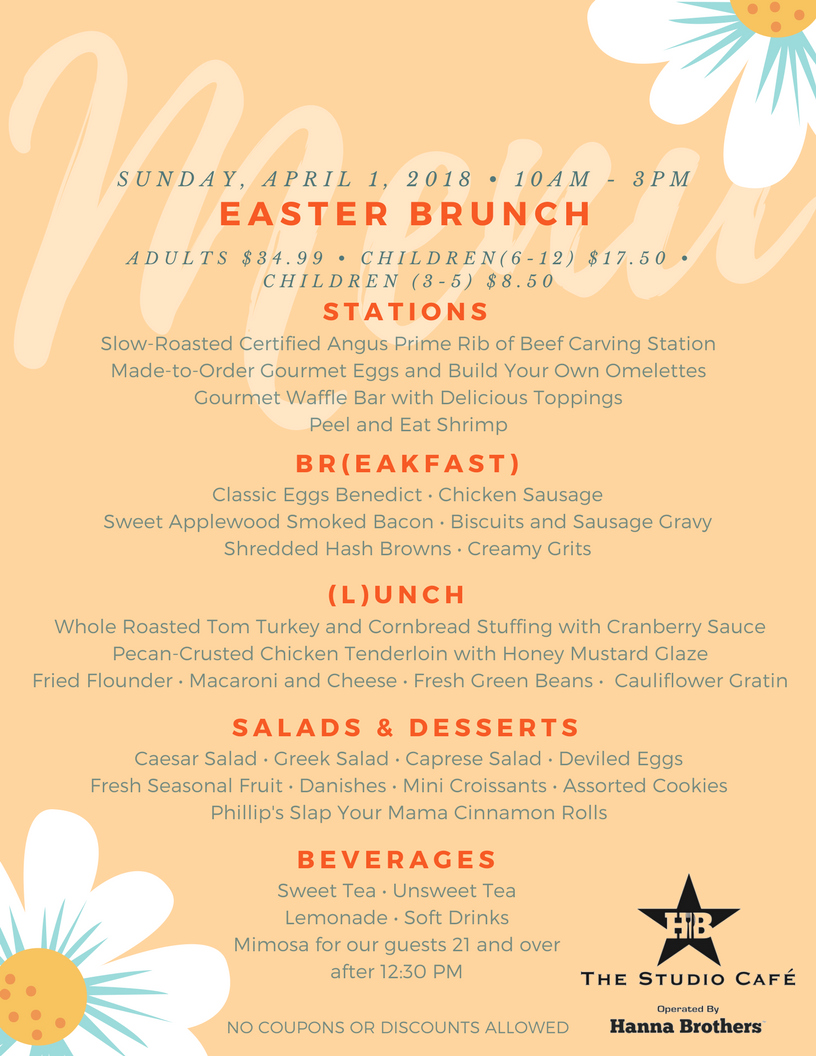 Join us Sunday, April 1, 2018 from 10 AM – 3 Pm for Easter Brunch at The Studio Cafe.
Easter Brunch Prices:  Adults $34.99 • Children (6-12) $17.50 • Children (3-5) $8.50
The Easter Brunch menu will feature Awesome Action Stations such as:
Savory Slow-Roasted Certified Angus Prime Rib of Beef Carving Station; Made-to-Order Gourmet Eggs and Build Your Own Omelettes Station; Gourmet Waffle Bar with Delicious Toppings; Peel and Eat Shrimp
Br(eakfast) items:
Classic Eggs Benedict; Chicken Sausage; Sweet Applewood Smoked Bacon; Biscuits and Sausage Gravy; Shredded Hash Browns; Creamy Grits
(L)unch items:
Whole Roasted Tom Turkey and Cornbread Stuffing with Cranberry Sauce; Pecan-Crusted Chicken Tenderloin with Honey Mustard Glaze; Fried Flounder; Macaroni and Cheese; Fresh Green Beans; Cauliflower Gratin
Salads & Desserts:
Caesar Salad; Greek Salad; Caprese Salad; Deviled Eggs; Fresh Seasonal Fruit; Danishes; Mini Croissants; Assorted Cookies; Phillip's Slap Your Mama Cinnamon Rolls
Non-alcoholic beverage included and a mimosa for our guests 21 and over after 12:30 PM.
Reservations are not required; however, suggested for parties of 7 or more. Please call 678-695-6278 to make a reservation.
So whether you are going to Sunrise service or late service, we will be here ready to serve you and your family on Easter!
If you haven't stopped by to try Phillip's Slap Your Mama Cinnamon Rolls, then you are missing out! But don't take my word for it! Come to Easter Brunch and find out yourself. We at Hanna Brothers cannot be held responsible for any "slapping of your mama" that might occur. It is just a name not a suggestion so please still bring your mama to brunch! 🙂
We look forward to serving you and wish you and your family a VERY HAPPY EASTER!!!
Don't forget to contact Sharon Turner for all of your catering needs!
The Studio Cafe Operated By Hanna Brothers
461 Sandy Creek Rd • Fayetteville, GA 30214
Located inside Pinewood Atlanta Studios Production Centre
Check out our Social Media!
https://www.facebook.com/hannabrothers/
Facebook: @HannaBrothers
Instagram: #HBStudioCafe
Twitter: @HBStudioCafe
Tagged as: #atlanta#brunch#EasterBrunch#fayettevillega#peachtreecity#pinewoodatlantastudios#SouthofAtlanta#SundayBrunch#withcharacterEasterEventsGreat FoodHanna BrothersPinewood ForestStudio CafeThe Studio Cafe