2022 Holiday Catering
Holiday Menus by Hanna Brothers
It's that time of year again! Let us do the cooking for your family this year!
At Hanna Brothers, we believe a great meal brings people together. That is why our culinary team has created a chef-inspired holiday menu that you can order for all your holiday needs.
You can choose from Our Signature Meals, A La Carte, Pick-Up Options, Platters, and Dessert menu.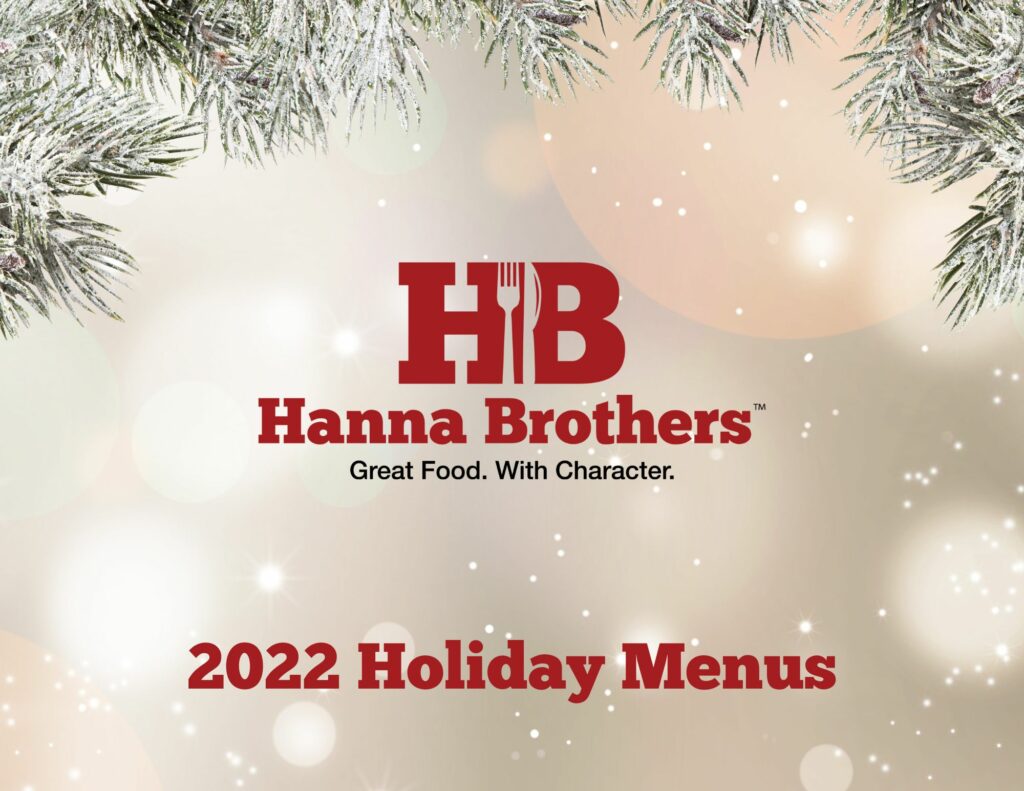 Click below to see this year's menu!

Holiday Pick-Up Packages
Online ordering will be available for the below holiday packages beginning September 23, 2022.
Holiday Menu #1 (serves up to 10)
5 LBS of Carved Mixed White & Dark Turkey Served w/ Cranberry Sauce and 1 QT of Sage Turkey Gravy
Butter Top Yeast Rolls
(1) Pumpkin Pie or Sweet Potato Pie
Choose (2)
(1) Cornbread Stuffing
(1) Scalloped or Mashed Potatoes
(1) Fresh Green Beans
Choose (1)
(1) Gallon of Sweet Tea
(1) Gallon of Hanna Brothers Famous Lemonade
$250+ tax per package for Pick-Up
Holiday Menu #2 (serves up to 20)
10 LBS of Carved Mixed White & Dark Turkey Served w/ Cranberry Sauce and 1 QT of Sage Turkey Gravy
Cornbread Stuffing
Scalloped -or- Mashed Potatoes
Fresh Green Beans
Butter Top Yeast Rolls
(1) Pumpkin Pie and (1) Sweet Potato Pie
Choose (2)
(1) Gallon of Sweet Tea
(1) Gallon of Hanna Brothers Famous Lemonade
$400+ tax per package for Pick-Up
Holiday Menu #3 (serves up to 40)
20 LBS of Carved Mixed White & Dark Turkey Served w/ Cranberry Sauce and 2 QT of Sage Turkey Gravy
Cornbread Stuffing
Scalloped -or- Mashed Potatoes
Fresh Green Beans
Butter Top Yeast Rolls
(2) Pumpkin Pies and (2) Sweet Potato Pies
Choose (4)
(1) Gallon of Sweet Tea
(1) Gallon of Hanna Brothers Famous Lemonade
$700+ tax per package for Pick-Up
Pick up options: HOT or COLD
Last Day to Order: 11/18 Pick up Day: 11/23 2-4 pm
Please note: Optional delivery & set up service is available within 15 miles including elegant wire racks, pans, sternos and disposable serving utensils-$100